Immunogenicity assessment – Choice of an appropriate platform is crucial
The most common technology to evaluate ADA response is the enzyme-linked immunosorbent assay (ELISA) by the bridging assay format. The new immunoassay platforms at IBR Inc., AlphaLISA®, MSD® ECL and Gyrolab™, expand the choice and offer considerable advantages in terms of sensitivity, accuracy, robustness, reduced assay time and sample consumption, better drug- and target tolerance, dynamic range and detection of low affinity ADAs.
Prior to assay validation and subsequent analysis of clinical samples selection of the most appropriate technology is crucial and needs careful evaluation.
Immunogenicity assay setup and optimization
IBR Inc. develops immunogenicity assays in direct or bridging format. During the assay development, sample pre-treatment strategies to reach an appropriate target and drug tolerance are carefully evaluated. Acid dissociation, target depletion and ECL-based PandA method are some of the strategies that might be employed. Neutralizing capacity can be evaluated by non cell-based or cell-based assays, depending on the particular mechanism of action of the specific drug.
Assay validation
Analysis of clinical trial samples must be performed using appropriately validated methods with adequate acceptance criteria. IBR Inc. assay validation is conducted following regulatory requirements and validation guidelines EMEA/CHMP/EWP/192217/2009, ICH Q2 (R1) and USP Chapter 1033.
Clinical sample measurement
Analysis of clinical trial samples for the assessment of the immunogenic potential, is done by a tiered approach, following the regulatory guidelines EMEA/CHMP/BMWP/14327/2006.
Screening for binding ability of ADAs
Confirmatory assay on selected positive samples
Neutralizing capacity (non cell-based and cell-based assays)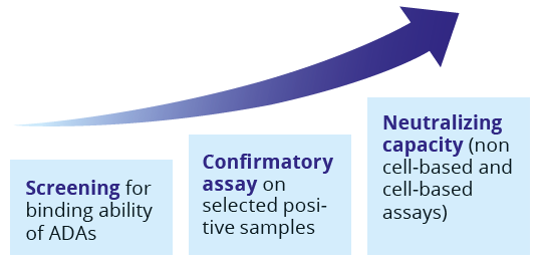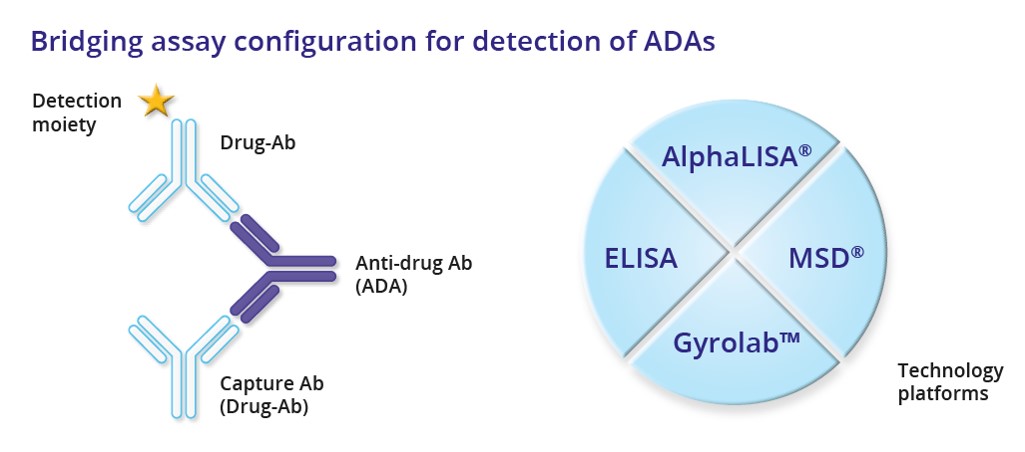 Submit a Question or Request

Simply fill out the form below and a member of our team will follow up with you shortly.